I guess I NEED to talk about wedding gowns today.
Got in my office a little early today, poured myself some coffee, and started working. Meredith came in and asked me if I woke up early this morning to watch the wedding. I was a total blank so I asked, what wedding? The prince's wedding! Ohhh, that wedding. I'd heard they were getting married a while ago, but honestly I could care less since I don't know them personally.
Speaking of "The Wedding", I have to say, I am not a big fan of Kate Middleton's wedding dress. Don't get me wrong. The dress looks very good on her. Since she is becoming a member of The Royal Family, her dress should be classy and elegant. Her dress was designed by Sarah Burton at Alexander McQueen, but it seems to be a bit more conservative than one would expect.
Kate Middleton helped design her wedding dress that was inspired by Grace Kelly's dress. The use of a lot of lace and similar silhouette make the two dresses look somewhat similar.
Here are some Sarah's wedding gowns.
Bruce Oldfield – The Hot Favorite
I personally like Bruce's design better than Sarah's. His designs are elegant, timeless and seductive.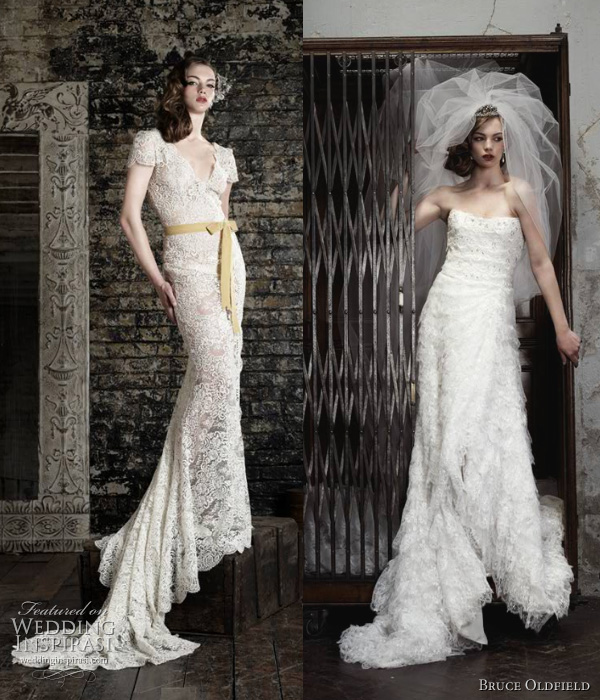 Since we are talking about wedding dresses, we have to mention Vera Wang, one of my
favorite wedding gown designers. Since Kate likes laces, let's check out some laces wedding dress from Vera.
I personally like simple style.
Pictures from online resources.